Port Royal

An exclusive luxury community, Port Royal is an excellent waterfront district for the well-to-do who prefer a secluded lifestyle. Located in Naples, this neighborhood is close to all the fabulous attractions South Florida has to offer. 

There are two private clubs to join in Port Royal for an intimate and luxury experience residents love. Port Royal Club offers members entertainment opportunities, dining options, fitness facilities with various classes, fabulous tennis accommodations, and spa treatments. For beachfront property owners on Cutlass Lane and Gordon Drive, the Cutlass Cove Beach Club provides stunning beach access to the crystal blue waters of the Atlantic. 

Recreation and shopping are in proximity. Bayview Park is a stunning 4-acre space in downtown Naples' Port Royal, with Naples Bay's scenic views. This park offers picnic tables and a pavilion for guests to sail to in their yachts and get some much-needed R&R. Third Street South in Naples is home to an array of restaurants, cafes, fashion and art boutiques, salons, spas, services, and more. Everything you could desire for a luxurious and appealing life is available to Port Royale inhabitants.
Old Naples

A neighborhood adjacent to Port Royal, teeming with adorable beach cottages and sizeable waterfront mansions, Old Naples features stunning wildlife, tropical plants, a beautiful beach, and an old-world charm, making it an oasis of South Florida. 

The beach is a prized possession of Old Naples, but that is not the only recreational venture available to residents. Naples Beach is a seven-mile white sand beach with a tranquil ambiance and a fishing pier ideal for sightseeing, picnicking, and relishing the Gulf of Mexico's coast. Cambier Park is a local treasure, featuring the Norris Community Center, shuffleboard courts, Bocce courts, a covered pavilion, a children's playground, lush green open space, and more. Concerts in the park take place here, providing a cultural haven to the community. River Park Community Center offers recreational classes, including yoga, Zumba, tap, camp programs, and more. This facility has a fitness center, library, commercial kitchen, an auditorium, computer lab, and all the makings of a recreational community hub.

Get all your shopping underway at 5th Avenue South and 3rd Street South, home to countless upscale fashion boutiques, jewelry stores, spas, gift shops, home furnishings, fine dining, cafes, and entertainment opportunities. Services and shops galore; this is the premier destination to shop, eat, and play in Old Naples. This neighborhood truly has everything desired in a tight-knit cultured community. 
Aqualane Shores

Nestled between Old Naples and Port Royal, Aqualane Shores is a quaint community teeming with oak and palm trees and water canals -  that lead into Naples Bay - weaving throughout. Real estate is varied, and every home has its charm. This neighborhood is ideal for boat enthusiasts. 

Located right on the Gulf of Mexico coast, the beach is easily accessible and a treasured aspect of this enclave. Aqualane Shores lead to Crayton Cove and Naples Bay, providing yacht owners easy access to marine recreational ventures. Shopping and dining opportunities are enjoyed at neighboring Naples' Third Street South and 5th Avenue South.

Aqualane Shores is an excellent retreat for those who desire a quiet lifestyle where ocean cruising and entertainment options are nearby.
Royal Harbor & Oyster Bay

Royal Harbor is a waterfront neighborhood situated in Naples. It features an array of homes that are more affordable for waterfront property seekers who don't want to break the bank. A genuinely perfect enclave for yacht connoisseurs, this charming and tranquil community is an exceptional destination.

Many shops, services, and entertainment options are available in neighboring communities, though there are a few local spots to enjoy. Within Royal Harbor, TriTone is an excellent spot to get a workout, incorporating barre, dance, and aquatics. Bonefish Grill is a local eatery offering fresh seafood and a fantastic happy hour, featuring $5 house wines, martinis, and cocktails. Whether you are a resident of Windstar or not, you can join the private Windstar on Naples Bay club. This club features a private beach, a Tom Fazio championship golf course, and various social activities, including book clubs, a fishing club, and happy hours. 

This district is ideal for yacht enthusiasts who prefer a tranquil existence with the option to seek entertainment, shopping, and recreation in neighboring communities.
Park Shore, Moorings & Coquina Sands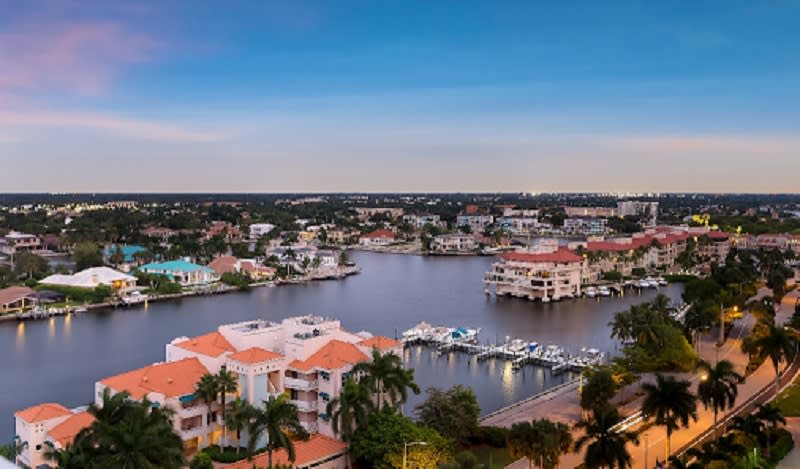 Credit: Shannon Lefevre
Located in Naples, Park Shore, Moorings, and Coquina Sands are three enchanting communities with unique offerings. Park Shore is a premier waterfront neighborhood, Moorings is teeming with luxury properties, and Coquina Sands is a family-friendly haven. These charming communities have a plethora of exciting possibilities for inhabitants of all ages.

Park Shore is home to Park Shore Beach Park, a beach and lush green area with Starbucks, Teavana, and Bayside Seafood Grill & Bar in proximity. The scenic North Gulfshore Beach is accessible to residents for a fun-filled day on the coastline. Tropical community parks, sizeable homes, and condos along the shore make for an excellent oceanfront location.

Moorings features Via Marina Beach and Moorings Beach Private Beach for various aquatic ventures. Marshalls is a great location to get shopping done for the whole family, while Harold's Place is an excellent American restaurant with a lush tropical setting to snag a tasty burger and a key lime martini. High-rise condominiums with stunning views of Naples, Naples Bay, and the Gulf of Mexico make this a superb destination for wealthy beach lovers. 

Coquina Sands is home to The Surfside of Naples condos with endless amenities and The Naples Beach Hotel and Golf Club featuring fabulous dining, spa services, and golf membership options. Lowdermilk Park is a family-friendly park with beach access, sand volleyball courts, picnic tables, two pavilions, and two children's playgrounds. Entertaining for children and adults alike, Coquina Sands has something to offer residents of all ages.
Pelican Bay

An affluent and intimate enclave, Pelican Bay is brimming with amenities inhabitants adore. Home to many HOAs and 90+ condominiums, this gem features various nature trails, parks, a massive conservation area, and has plenty of shopping opportunities close by.

Clam Pass Park is a beach access point with 35 acres of coastline, preserves, and a sizeable boardwalk to the sandy beach. This location features a free tram to the beach and a restaurant, ensuring a fun-filled day along the coast. Pelican Bay Community Park is a premier recreational location, teeming with amenities. Tennis courts, racquetball courts, Bocce courts, a playground, a basketball court, and more outdoor activities adorn this community treasure. Between the beaches and parks, Pelican Bay is a stunning community that nature enthusiasts will love.

Grey Oaks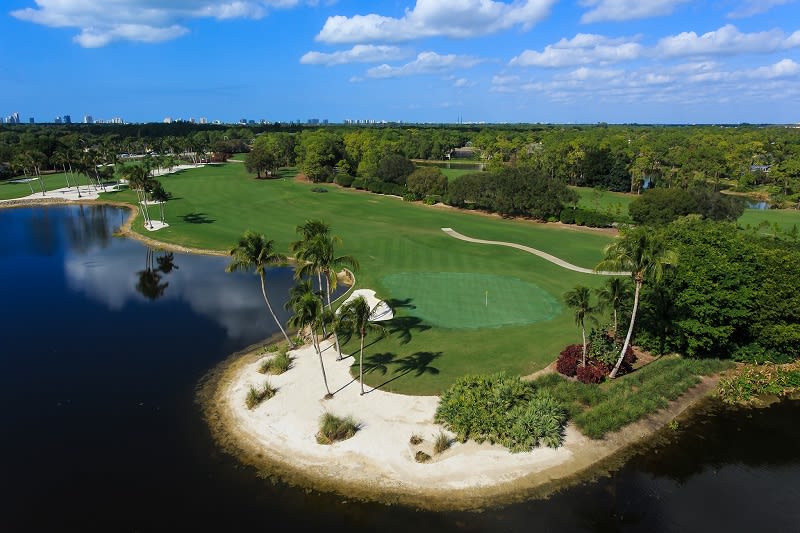 Credit: Shannon Lefevre
Grey Oaks is a combined enclave of two communities, the gated Grey Oaks and The Estuary at Grey Oaks housing society. Grey Oaks offers golf enthusiasts the perfect location to live a quiet lifestyle on the green. Both communities provide massive acreage plots with luxury single-family properties and condos. 

Grey Oaks Country Club offers South Florida families exceptional resort-style living. This club provides members three championship golf courses, a sports center with aquatic, Bocce, pickleball, and tennis programs, 20,000-square-foot fitness center, a sparkling swimming pool, and fabulous dining and social settings. With a Starbucks nearby, beautiful beaches in proximity, various country club options, and an array of shops and services along Tamiami Trail North, this golf enthusiast dream is an exceptional destination for professionals and families alike.
Pine Ridge

Pine Ridge offers inhabitants a rustic lifestyle in the heart of Naples, with enormous properties and access to the plethora of stunning beaches South Florida has to offer. Adjacent to Pelican Bay, this charming non-gated community is close to shops, restaurants, and various recreation available to Naples residents.

Smack-dab in the middle of Pine Ridge sits Mockingbird Lake, a swimming destination fit for a family day trip of splashing and picnicking. Pelican Bay Community Park is just a few minutes away with its endless recreational offerings. Peace of mind through meditation and movement is easily achieved in Pine Ridge with yoga studios Postures, studio23nine, and Yoga House. Pine Ridge is an ideal destination for peaceful country living with a host of amenities accessible in neighboring communities.
Vanderbilt Beach

An unincorporated community in Collier County, Vanderbilt Beach is just north of Pelican Bay. This beachfront neighborhood features an array of condominiums and condo associations, restaurants, beach access, and scenic views of the Gulf of Mexico.

The Floridian Club is a private club located on the shoreline of Gulf Shore Beach. You can revel in a fabulous sunset dinner or happy hour complete with live music and beach activities or sunbathe by the pool. Revel in a coastal dining experience on the sand at The Turtle Club. This establishment serves up creamy lobster bisque, steak Oscar, and an array of fabulous dishes. A slew of libations, both frozen and on the rocks, and Turtle Club Private Java rum make this a must-visit restaurant. Vanderbilt Beach is an ocean-centric gem with luxury amenities available at every turn. 

When you are sufficiently enticed by these South Florida neighborhoods and are seeking homes for sale in Naples, Florida, or any of the other of these fabulous communities, contact us. Philip Collins specializes in sales of waterfront luxury estates and condos in communities such as Port Royal, Old Naples, Beachfront, Aqualane Shores, and more. Let us be your guide to the beachfront home of your dreams!